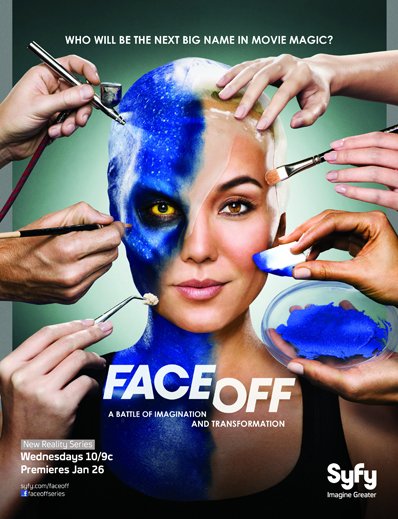 Face Off is an American reality television game show on the Syfy cable network in which a group of prosthetic makeup artists compete against each other to create prostheses such as those found in science fiction and horror films. Actress McKenzie Westmore, a member of the Westmore family of makeup artists, serves as the show's host, with judges being Academy Award-winning makeup artist Ve Neill (Ed Wood, Beetlejuice, Mrs. Doubtfire), and television and film makeup artist Glenn Hetrick (Buffy the Vampire Slayer, Babylon 5). Creature designer and director Patrick Tatopoulos (I Am Legend, Resident Evil: Extinction, Underworld: Rise of the Lycans) served as judge for the first two seasons, but he was replaced by creature designer and concept artist Neville Page from Season 3.[2] Industry figures and artists including Brian Grazer, Kevin Smith, Paul W. S. Anderson, Greg Nicotero and Gale Anne Hurd have served as guest judges.[1]
Each week, the artists face a "Spotlight Challenge" that tests their artistry and techniques to create a full makeup character to match a theme over the course of 3 days. The first day allows for concept design and sculpting for five hours, a second day of 10 hours for work in finishing the molding, and a final day of 4 hours in applying the makeup before a one hour "Last Looks" for touch ups. The judges then have the opportunity to look at the makeups from afar and up close, and decide a series of top and bottom looks for the week. One artist will be deemed the winner, sometimes receiving a special bonus prize such as immunity from elimination or a cash reward, and one artist will be eliminated from the running for the grand prize. Some episodes also feature a "Foundation Challenge", a smaller challenge that introduces a new technique on a smaller scale, and the winner is awarded an advantage for that week's Spotlight Challenge, ranging from immunity from elimination to receiving a first choice of theme.
The Face Off winner receives US$100,000 and a year's supply of makeup from Alcone (changed to US$25,000 of makeup in season 2),[3] a "grand prize that will launch a career".[4] The second season added the 2012 Toyota Camry Hybrid to its prize package. The Season 3 grand prize winner will receive the same US$25,000 of Alcone makeup and US$100,000 cash prize, in addition to the opportunity to become a guest lecturer at the "Make up for Ever Academy" in New York and Paris, and the Toyota Prius v. The prize package for season 4 remains the same with the exception of the 2013 Fiat 500 replacing the Prius V as the prize vehicle.
Ando a acompanhar a S2 na Radical, gosto. Vi à pouco o episódio 5, finalmente saiu a Athena, não a suportava nada #**** #Ucrânia